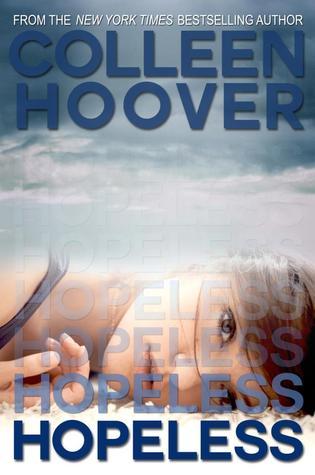 Image via Goodreads
Title: Hopeless (Hopeless #1)
Author: Colleen Hoover
Release Date: May 7th, 2013
Publisher: Atria Books
Source: Borrowed
Genre: New Adult, Romance
Purchase links: Book Depository

Blurb:
Sometimes discovering the truth can leave you more hopeless than believing the lies…

That's what seventeen-year-old Sky realizes after she meets Dean Holder. A guy with a reputation that rivals her own and an uncanny ability to invoke feelings in her she's never had before. He terrifies her and captivates her all in the span of just one encounter, and something about the way he makes her feel sparks buried memories from a past that she wishes could just stay buried.

Sky struggles to keep him at a distance knowing he's nothing but trouble, but Holder insists on learning everything about her. After finally caving to his unwavering pursuit, Sky soon finds that Holder isn't at all who he's been claiming to be. When the secrets he's been keeping are finally revealed, every single facet of Sky's life will change forever.
My rating: 4 of 5 stars
Okay, so here's the deal. I have put off reading this book ever since forever. I thought it was just another depressing story about abuse. Late last night, I decided to just read a few pages to get a feel of the tone of the book. And I ended up staying up all night reading.
This book is so much more.
Sure, it deals with issues such as abuse, but it also shows the role family and friends play in getting someone through such an ordeal. And all without having the book being depressing to read.
Sky is a very likeable character. She's strong, or stubborn as she calls herself. Even though she has to deal with the devils of her past, which was slowly unveiled to us as she lets herself remember, I thought she handled it quite well.
I wasn't so sure about Holder at first. His personality and mood seem a bit volatile at the beginning but he's okay. Not book boyfriend material for me, but he's okay.
I didn't expect much from it but I did enjoy my read. And I guess you could say that I
live
the book, just as Holder and Sky
lived
for each other.