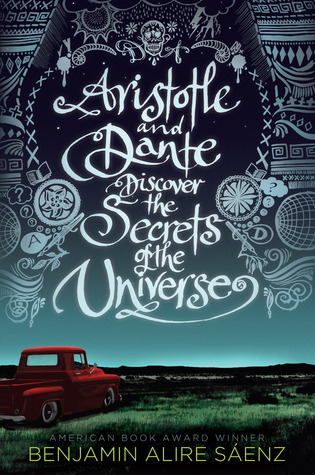 Image via Goodreads
Title:
Aristotle and Dante Discover the Secrets of the Universe
Author: Benjamin Alire Saenz
Release Date: February 21st, 2012
Publisher: Simon & Schuster Books for Young Readers
Source: Borrowed
Genre: YA, LGBT, Contemporary, Coming of Age
Purchase link:
Book Depository
Blurb:
A lyrical novel about family and friendship from critically acclaimed author Benjamin Alire Sáenz.
Aristotle is an angry teen with a brother in prison. Dante is a know-it-all who has an unusual way of looking at the world. When the two meet at the swimming pool, they seem to have nothing in common. But as the loners start spending time together, they discover that they share a special friendship—the kind that changes lives and lasts a lifetime. And it is through this friendship that Ari and Dante will learn the most important truths about themselves and the kind of people they want to be.
My rating: 5 of 5 stars
Oh, wow! This book is awesome. I took my sweet time reading this, savouring it and just allowing the story to seep into my soul.
Aristotle, 'Ari', is a 15-year-old boy. He's trying to understand why he feels sad all the time even when he knows he has no reason to. He's angry and moody. Ari has no real friends until Dante.
I didn't think it was my job to accept what everyone said I was and who I should be.
Dante is the opposite of Ari. While Ari keeps his thoughts and feelings to himself, Dante wears his heart on his sleeve. Ari was ashamed of who he was whereas Dante accepted and embraced himself even when he knew that people would judge him for being different. Dante and Ari became fast friends over the summer.
I suppose Ari, in a way, loved Dante even then. He's never felt anything like that for anyone. By that, I mean he's never cared for a friend the way he did for Dante. And that scares him.
The writing is poetic and beautiful. If this wasn't a library copy, I would've highlighted all the sentences I loved instead of copying them out on a paper.
For the music to be over so soon. For the music to be over when it had just begun. That was really sad.
I got to thinking that poems were like people. Some people you got right off the bat. Some people you just didn't get- and never would get.
I could relate to Ari's angsty thoughts about life. Well, that's because I WAS that angsty teen stuck in an ecotone once. I was also trying to discover the secrets of the universe as well.