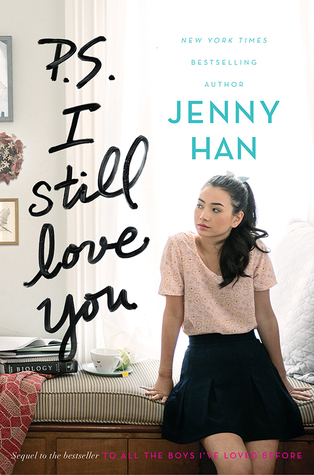 Image via Goodreads
Title :
P.S. I Still Love You
(To All the Boys I've Loved Before #2)
Author: Jenny Han
Release Date: May 26th, 2015
Publisher: Simon & Schuster Books for Young Readers
Source: Bought
Genre: YA, Contemporary Romance
Purchase link:
Book Depository
Blurb:
Lara Jean didn't expect to
really
fall for Peter.
She and Peter were just pretending. Except suddenly they weren't. Now Lara Jean is more confused than ever.
When another boy from her past returns to her life, Lara Jean's feelings for him return too. Can a girl be in love with two boys at once?
In this charming and heartfelt sequel to the
New York Times
bestseller
To All the Boys I've Loved Before
, we see first love through the eyes of the unforgettable Lara Jean. Love is never easy, but maybe that's part of what makes it so amazing.
My rating: 5 of 5 stars
Dear Lara Jean,
I've waited a year for you! One whole year for you to figure things out with Peter. But the wait was worth it. So, don't feel bad about it...
I had tons of fun reading this book. Just as the first book did, the sequel also manages to put a smile on my face. Oh, the feels! Lara Jean is as lovely as ever. Also, I love how themes on family, friendships and love play into the story. This is such a cute story,
In
P.S. I Still Love You
, we finally got a proper introduction to John Ambrose McClaren, whom we met briefly in the first book. He was one of the recipients of Lara Jean's love letters.
I am torn between Peter and John. I like Peter's character- he's sweet and he's confident of himself. But then, there's John and every moment he shared with Lara Jean is just so cute and romantic. And now, I have a crush on him.
I really enjoyed this book, as much as I did the first book. If Jenny Han decides to write a third book to this series (I'm keeping my fingers crossed), I'm all game.