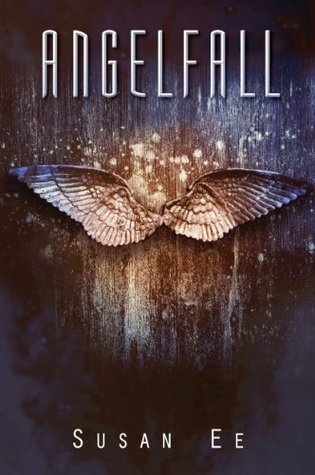 Image via Goodreads
Title: Angelfall (Penryn & the End of Days #1)
Author: Susan Ee
Release Date:

May 23rd, 2013
Publisher:

Hodder and Stoughton
Source: Borrowed
Genre: YA, Dystopia, Fantasy
Purchase Link: Book Depository
Blurb:
It's been six weeks since angels of the apocalypse descended to demolish the modern world. Street gangs rule the day while fear and superstition rule the night. When warrior angels fly away with a helpless little girl, her seventeen-year-old sister, Penryn, will do anything to get her back.
Anything, including making a deal with an enemy angel.
Raffe is a warrior who lies broken and wingless on the street. After eons of fighting his own battles, he finds himself being rescued from a desperate situation by a half-starved teenage girl.
Traveling through a dark and twisted Northern California, they have only each other to rely on for survival. Together, they journey toward the angels' stronghold in San Francisco where Penryn will risk everything to rescue her sister, and Raffe will put himself at the mercy of his greatest enemies for the chance to be made whole again.
My rating : 5 of 5 stars

This is my first reread of Angelfall. I didn't write a review on my first read last year as I know that I could never do this book justice. In my opinion, it was just that good. This time around, I have a strong urge to recommend this book to every one. Well, here goes nothing.
I am not, and have never been, a fan of fantasy books about angels. But I make an exception for this book. It's dark, twisted and just awesome. I enjoyed the plot, the twists and the characters.
Angelfall is one action-packed book. I was fed scenes after scenes of action that I am sucked into the story right from the very beginning. Another thing is that there is absolutely no insta-love. I love the witty banter between Raffe and Penryn. I love how they started as enemies and slowly became friends and maybe something more. I love reading about Penryn's Mom and her crazy antics...Okay, now I'm just gushing about the book.
Anyway, I just simply have to post some of my favourite banters between Raffe and Penryn:
"Here, I'll show you how to use it. Let me see your foot."




"That's a pretty intimate demand in the angel world. It usually takes dinner, some wine, and sparkling conversation for me to give up my feet."
And
"I never kid about my warrior demigod status."




"Oh. My. God." I lower my voice, having forgotten to whisper. "You are nothing but a bird with an attitude. Okay, so you have a few muscles, I'll grant you that. But you know, a bird is nothing but a barely evolved lizard. That's what you are."
Penryn might be one of my fave heroines in YA fiction. She's badass and would do anything to keep her family safe from harm. This girl is tough. She's not some damsel waiting to be saved. Go girl power!