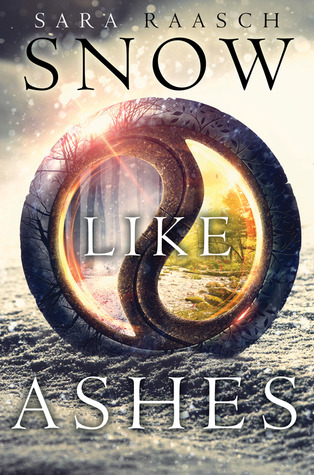 Image via Goodreads
Title: Snow Like Ashes (Snow Like Ashes #1)
Author: Sara Raasch
Release Date:

October 14th, 2014
Publisher:

Balzer + Bray
Source: Borrowed
Genre: YA, Fantasy
Purchase Link: Book Depository
Blurb:
A heartbroken girl. A fierce warrior. A hero in the making.
Sixteen years ago the Kingdom of Winter was conquered and its citizens enslaved, leaving them without magic or a monarch. Now, the Winterians' only hope for freedom is the eight survivors who managed to escape, and who have been waiting for the opportunity to steal back Winter's magic and rebuild the kingdom ever since.
Orphaned as an infant during Winter's defeat, Meira has lived her whole life as a refugee, raised by the Winterians' general, Sir. Training to be a warrior—and desperately in love with her best friend, and future king, Mather — she would do anything to help her kingdom rise to power again.
So when scouts discover the location of the ancient locket that can restore Winter's magic, Meira decides to go after it herself. Finally, she's scaling towers, fighting enemy soldiers, and serving her kingdom just as she's always dreamed she would. But the mission doesn't go as planned, and Meira soon finds herself thrust into a world of evil magic and dangerous politics – and ultimately comes to realize that her destiny is not, never has been, her own.
My rating: 4 of 5 stars

I have long anticipated the release of Snow Like Ashes by Sara Raasch since early September last year. With an interesting book blurb AND a beautiful book cover, I just had to get my hands on this book. My reading enjoyment when it comes to high fantasy novels highly depends on the settings of the story. If I couldn't picture the fictional world, I find it really hard to get into the story. I consider Snow Like Ashes a hit for me. From Raash's description of this land called Primoria which holds eight kingdoms- four Seasons kingdoms and four Rhythm kingdoms (oh, the map of Primoria on the first page helps too), I could picture it all in my head. With that said, I find the setting of the story really interesting and well thought out.
The Kingdom of Spring has destroyed the Kingdom of Winter, enslaved the Winterians and had in their possession an ancient locket which is actually a magical conduit that belongs to Winter. With only eight survivors left including a male heir, things are not looking good for the Winterians considering the fact that the magic is passed down through a female-blooded conduit.
This story is told from the POV of Meira, an orphan girl who's also one of the survivors of Winter. I consider Meira a likeable character whose main goal is to save the Kingdom of Winter. I've read a lot of books in which the main character broods about their love life more than they should when they should be finding ways to save their country or to come up with an escape plan. So, it's a nice change to see a female character doing what needs to done instead of lusting over their love interest all the time.
There is still romance though. Okay, there is a love triangle. And I'm totally rooting for Theron.
The romance lies beneath the surface of all the action going on in this story. In my opinion, the balance of these two elements is just right- enough action to keep me intrigued in the plot and enough romance to keep the hopeless romantic in me happy.
Overall, it's an enjoyable read for me but I just felt that there's just some spark that is missing from this book; hence, the four stars.