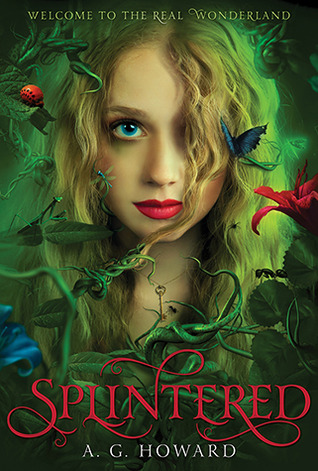 Image via Goodreads
Title :
Splintered
(Splintered #1)
Author: A.G. Howard
Release Date: January 1st, 2013
Publisher: Amulet Books
Source: Borrowed
Genre: YA, Fantasy
Purchase Link:
Book Depository
Blurb:
This stunning debut captures the grotesque madness of a mystical under-land, as well as a girl's pangs of first love and independence. Alyssa Gardner hears the whispers of bugs and flowers—precisely the affliction that landed her mother in a mental hospital years before. This family curse stretches back to her ancestor Alice Liddell, the real-life inspiration for Lewis Carroll's Alice's Adventures in Wonderland. Alyssa might be crazy, but she manages to keep it together. For now.

When her mother's mental health takes a turn for the worse, Alyssa learns that what she thought was fiction is based in terrifying reality. The real Wonderland is a place far darker and more twisted than Lewis Carroll ever let on. There, Alyssa must pass a series of tests, including draining an ocean of Alice's tears, waking the slumbering tea party, and subduing a vicious bandersnatch, to fix Alice's mistakes and save her family. She must also decide whom to trust: Jeb, her gorgeous best friend and secret crush, or the sexy but suspicious Morpheus, her guide through Wonderland, who may have dark motives of his own.
My rating: 3 of 5 stars
Splintered
is an okay read for me. I only truly got into the story in the last third of the book.
I was a little creeped out when a moth "the size of a crow" makes its appearance in the beginning of the story. Having a phobia of butterflies or any insect that resembles one, I could empathize Alyssa's Mom when she went berzerk and accidentally hurt her daughter when she tried to kill the moth.
As you can tell from the blurb, there is in fact a love triangle in the story. Usually, I have a hard time picking out a character to root for in the case of a love triangle. Such is not the case for this book.
Maybe it's just me but I find Jeb really annoying. He treats Alyssa like some damsel in distress in need of his saving.
News flash, Jeb: she's more powerful than you. Just let her do her thing and quit trying to be the hero!!
Jeb is the kind of character which I hope the MC have as a friend, not as a love interest.
Morpheus, on the other hand..... Yes, he has his faults and he may be the reason why Alyssa's Mom is in the asylum. Morpheus is actually the moth.
"Why would I want you?"

He lifts three fingers to countdown. "Mysterious. Rebellious. Troubled. All those qualities women find irresistible."
Hmm... I may have fallen for Morpheus because of all those traits.
All I can say is that if Alyssa doesn't end up with Morpheus, I wouldn't mind having him all for myself. But then again, things might not work out between Morpheus and I since I might end up shrieking when he wrapped his wings around me.
I had fun reading this book, especially the last third of the story, and I might even pick up the sequel.