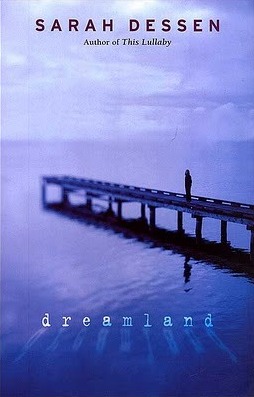 Image via Goodreads
Title: Dreamland
Author: Sarah Dessen
Release Date:

May 11th, 2004
Publisher:

Speak
Source: Borrowed
Genre: YA, Contemporary
Purchase Link: Book Depository
Blurb:
Wake up, Caitlin
Ever since she started going out with Rogerson Biscoe, Caitlin seems to have fallen into a semiconscious dreamland where nothing is quite real. Rogerson is different from anyone Caitlin has ever known. He's magnetic. He's compelling. He's dangerous. Being with him makes Caitlin forget about everything else--her missing sister, her withdrawn mother, her lackluster life. But what happens when being with Rogerson becomes a larger problem than being without him?
My rating: 4 of 5 stars
Dreamland tells the story of 16-year-old Caitlin who was trying to move on with her life after her older sister, Cass, ran away from home. She was determined not to follow Cass' footsteps while trying to fill the void Cass left in her life. Caitlin then met Rogerson and found herself in an abusive relationship that she couldn't leave behind.
Dreamland is the first Sarah Dessen novel that I've read. To tell the truth, after reading the blurb, I probably would never have picked this up. I usually avoid reading anything with a heavy subject lest I get really upset. I mean it took me about a week or so to finally accept the ending to My Sister's Keeper by Jodi Picoult. Since a friend of mine highly recommended this book to me on several occasions, I decided to give it a try. I actually enjoyed it and didn't get too upset over it.
Halfway into the book, I'm already loving Dessen's writing style. The plot develops at the right pace and before I even realised it, I'm totally caught up in the story.
Now, let's discuss some details, namely, Rogerson. He was so nice to Caitlin in the beginning. He was a drug dealer and took Caitlin around while he did his illegal business. Even so, he had always treated her respectfully. That is, until he beat her. As Caitlin narrated what happened and how she felt later, I thought of myself being in her shoes and I could understand why she felt that way. Without realising it, she'd slowly let this whole ordeal swallow her up and felt that it was too late to ask for help.
I am satisfied with the ending. It wasn't rushed and I get to find out how Caitlin was coping.