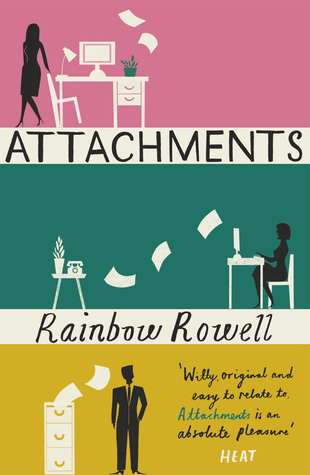 Image via Goodreads
Title: Attachments


Author: Rainbow Rowell
Release Date:

February 2nd, 2012
Publisher:

Orion
Source: Bought
Genre: Adult Contemporary
Purchase Link: Book Depository
Blurb:
It's 1999 and the internet is still a novelty. At a newspaper office, two colleagues, Beth and Jennifer, e-mail back and forth, discussing their lives in hilarious details, from love troubles to family dramas. And Lincoln, a shy IT guy responsible for monitoring e-mails, spends his hours reading every exchange.
At first their e-mails offer a welcome diversion, but the more he reads, the more he finds himself falling for one of them. By the time Lincoln realises just how head-over-heels he is, it's too late to introduce himself.
After a series of close encounters, Lincoln eventually decides he must follow his heart... and find out if there is such a thing as love before first sight.
Attachments is not my favourite Rainbow Rowell novel but it was still an enjoyable read. Compared to Eleanor & Park and Fangirl, this book didn't do much for me. I mean, sure the premise of the story is really interesting. However, I got kinda bored with the slow progress of the plot development.
I don't know if it's just me, but when I first started this book, I'd pictured Lincoln as this geeky guy with a small frame. When Beth wrote in her email to Jennifer that Lincoln is actually this big, muscular guy, Lincoln suddenly turned into Kellan Lutz in my mind.
I kept waiting for Lincoln to finally meet Beth and actually strike up a conversation with her. That only happened towards the VERY end of the book. Anyway, true to Rainbow Rowell's style, Attachments oozes sweetness. However, there aren't many aww-worthy moments for me.
I find Lincoln a somewhat relatable character (not as relatable as I find Cath from Fangirl)- throughout the story, he's figuring out who he is and what he actually wants in life. When he actually started making changes in his life, I find myself cheering for him as I do want to see him succeed and be happy.
The story ended a little abruptly for me. In fact, I actually thought my copy of Attachments was missing a couple pages. I need more pages, more evidence to convince me that Beth is in love with Lincoln.