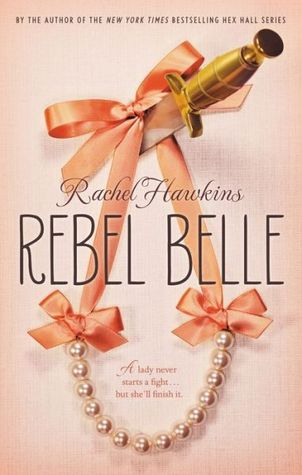 Image via Goodreads
Title: Rebel Belle
Author:

Rachel Hawkins
Release Date:

April 8th, 2014
Publisher:

Putnam Juvenile
Source: Borrowed
Genre: YA
Blurb:
Harper Price, peerless Southern belle, was born ready for a Homecoming tiara. But after a strange run-in at the dance imbues her with incredible abilities, Harper's destiny takes a turn for the seriously weird. She becomes a Paladin, one of an ancient line of guardians with agility, super strength and lethal fighting instincts.
Just when life can't get any more disastrously crazy, Harper finds out who she's charged to protect: David Stark, school reporter, subject of a mysterious prophecy and possibly Harper's least favorite person. But things get complicated when Harper starts falling for him--and discovers that David's own fate could very well be to destroy Earth.
With snappy banter, cotillion dresses, non-stop action and a touch of magic, this new young adult series from bestseller Rachel Hawkins is going to make y'all beg for more.
My rating: 5 of 5 stars
I have soooo much fun reading this book! I am drawn into the story from the very beginning of the plot. I love how Hawkins executed the story. The events of the story flows smoothly and as a reader, I could easily let my mind get into the whole storyline. I actually laughed, out loud, several times as I read.
The protagonist of the story, Harper Price is a Southern girl. In the beginning of the plot, readers get to see what happened to Harper that causes her to have great fighting skills all of a sudden. She has become a Paladin, which is some sort of guardian with super strength, and she is to protect her arch nemesis- David Stark from people seeking to kill him. The reason that there are people after David is that he is an Oracle, the only one, who could see into the future.


This story is surprisingly action-packed. All those action scenes told from the perspective of Harper, just makes it more fun to read. Oh, and the plot twist at the end just caught me off guard. I did not see it coming!


I find the relationship between Harper and David adorable. They hated each other since they were practically babies but Harper soon realizes that she actually cares for him. Of course, I had known from the beginning that, like most storylines of novels I've read, two people who can't stand each other at first will most probably fall for each other as the story develops.


Rebel Belle is actually the first book of the series and I can't wait for the second book which is set to be published next year.


I would definitely recommend this book to anyone as long as you don't mind a protagonist who is kind of a girly girl. In fact, after finishing this book, I've been recommending it to all my friends who would listen to be blabber about it, thus giving away too much spoilers. That is why I try to write this book review with minimum spoilers, hoping that I wouldn't ruin your reading pleasure if you decide to read this book, that is.
I really enjoy the story and I hope you do too.