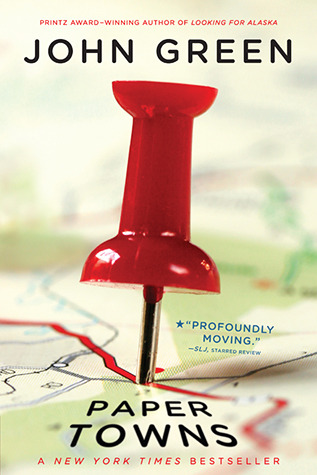 Image via Goodreads
Title: Paper Towns
Author: John Green
Release Date:

September 22nd, 2009
Publisher:

Speak
Source: Bought
Genre: YA, Contemporary
Blurb:
Who is the real Margo?

Quentin Jacobsen has spent a lifetime loving the magnificently adventurous Margo Roth Spiegelman from afar. So when she cracks open a window and climbs into his life—dressed like a ninja and summoning him for an ingenious campaign of revenge—he follows. After their all-nighter ends, and a new day breaks, Q arrives at school to discover that Margo, always an enigma, has now become a mystery. But Q soon learns that there are clues—and they're for him. Urged down a disconnected path, the closer he gets, the less Q sees the girl he thought he knew...


My rating: 3 of 5 stars
Paper Towns
is written from the perspective of Quentin Jacobsen, a high school senior. He has always been in love with his next-door neighbour, Margo Roth Spiegelman. They used to be close friends when they were kids but soon grew apart. One night, Margo went to his bedroom window and asked Quentin to join her on a mission. The mission went well. However, Margo goes missing the next day, leaving clues behind for Quentin. Quentin decided to trace all the clues and search for Margo Roth Spiegelman.
Paper Towns
reminds me so much of Looking
For Alaska
(check out my review
here
). Quentin reminds me of Miles Halter and Margo reminds me of Alaska Young. The characters from the 2 novels, both written by John Green, share similar personalities and both stories have a sense of mystery to it.
Halfway through the story, I started to wonder if Margo will end up with the same fate as Alaska Young had in
Looking For Alaska
. Thankfully, that's where the similarities between the two novels end. It is probably one of the more significant difference between the two novels.
I got bored of the story once Quentin started to understand what the clues Margo left him meant. Quentin kept going back and forth from clue to clue. There are numerous times when I just want to flip to the end to find out if they ever find Margo's whereabouts.
I gave
Paper Towns
3 stars because of its interesting beginning and ending of the book. If not for the boring middle section of the book, which in my opinion is the most important part of a novel, I would have liked
Paper Towns
more.
Comparing
Paper Towns
and
Looking For Alaska
, I feel that
Looking For Alaska
is a more enjoyable read.