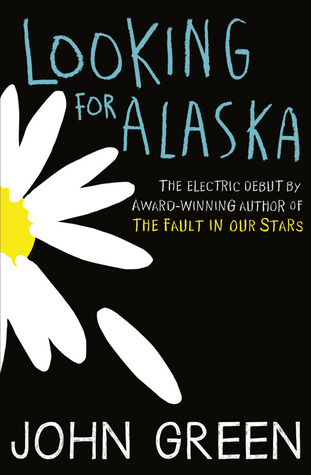 Image via Goodreads
Title: Looking for Alaska
Author: John Green
Release Date:

February 28th, 2013
Publisher:

HarperCollins Publishers
Source: Bought
Genre: YA, Contemporary
Blurb:
A deeply affecting coming-of-age story, Looking for Alaska traces the journey of Miles Halter, a misfit Florida teenager who leaves the safety of home for a boarding school in Alabama and a chance to explore the "Great Perhaps." Debut novelist and NPR commentator Green perfectly captures the intensity of feeling and despair that defines adolescence in this hip, shocking, and emotionally charged work of fiction.

Miles has a quirky interest in famous people's last words, especially François Rabelais's final statement, "I go to seek a Great Perhaps." Determined not to wait for death to begin a similar quest, Miles convinces his parents to let him leave home. Once settled at Culver Creek Preparatory School, he befriends a couple of equally gifted outcasts: his roommate Chip―commonly known as the Colonel—who has a predilection for memorizing long, alphabetical lists for fun; and the beautiful and unpredictable Alaska, whom Miles comes to adore.

The kids grow closer as they make their way through a school year filled with contraband, tests, pranks, breakups, and revelations about family and life. But as the story hurtles toward its shattering climax, chapter headings like "forty-six days before" and "the last day" portend a tragic event―one that will change Miles forever and lead him to new conclusions about the value of his cherished "Great Perhaps."
My rating: 4 of 5 stars
'Looking For Alaska' by John Green is the first ever John Green book I've ever read. And I have to say, I'm impressed. The way the story is told, the descriptions of the characters and the settings and the WRITING are just great.
I love everything about the book that I even contemplated for a few days whether to post a review on this book as I feel that I am not eligible to voice out critics and whatnots as I just love it that much. But here goes nothing:
'Looking For Alaska' tells the story of Miles Halter's life when he transfers to Culver Creek Boarding School in search of a Great Perhaps. He became friends with his roommate, Colonel (that's his roommate's nickname) and Alaska Young. I won't go into the details about the whole storyline but I will say one thing: this story is divided into Before and After a life-changing event in Miles' life.
The life-changing event is a drastic one indeed that I did not see coming AT ALL. I made guesses during the Before part of the novel about the event. I made a guess that perhaps Miles would get expelled for getting caught drinking or smoking (yes, there're lots of cigarettes and alcohols involved in this story, maybe too much- that's one of the 2 things that I don't like about this novel. The second being the description of a blow job that grossed me out. Okay, so maybe I'm a prude! Those are the only two criticisms I have about this book).
After reading through the life-changing incident, I ALMOST cried. Almost.
I love the storyline. Well, most part of it anyway.
Can't wait to read the next John Green book that's sitting on my shelf right this moment!