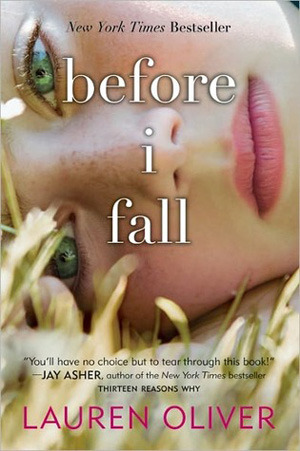 Image via Goodreads
Title: Before I fall
Author: Lauren Oliver
Release Date: March 2nd, 2010
Publisher:

HarperCollins
Source: Bought
Genre: YA, Contemporary

Blurb:
What if you had only one day to live? What would you do? Who would you kiss? And how far would you go to save your own life?
Samantha Kingston has it all: the world's most crush-worthy boyfriend, three amazing best friends, and first pick of everything at Thomas Jefferson High—from the best table in the cafeteria to the choicest parking spot. Friday, February 12, should be just another day in her charmed life.
Instead, it turns out to be her last.
Then she gets a second chance. Seven chances, in fact. Reliving her last day during one miraculous week, she will untangle the mystery surrounding her death—and discover the true value of everything she is in danger of losing.
My rating: 5 of 5 stars
I find this book really uplifting. After reading this book, I found myself thinking, what would I do if today is my last day alive, would i do anything differently if it is my last day, etc. Samantha Kingston has it all. However, she's infamous for the mean things she and her friends have done to their peers.
She found herself waking up on the same day that she'd supposedly died, going through similar events as the day before.This routine continues for several days before she realizes that she wants to treat people better and not be mean to them.
She wants to be remembered for the good that she's done, not the bad. Throughout the seven days, she finally acknowledges that she's fallen for her former best guy friend-Kent. On Day 7, she saved Juliet ( a victim who's been terribly mistreated by Sam and her group of friends) who tried to get herself killed. I had HOPED that in the end Sam would not die, that she'll end up with Kent and live happily ever after... Needless to say, it didn't end that way.
Although Kent and Sam eventually confess their love for each other, the time spent together afterwards is just too short. A tiny part of me kind of understands why Lauren Oliver had ended the story in such a way. I really enjoy reading 'Before I Fall'. The story is beautiful yet sad, filled with characters that you'll grow to love or hate. In my case, I've totally fallen for Kent, another addition to the list of book characters that I love.