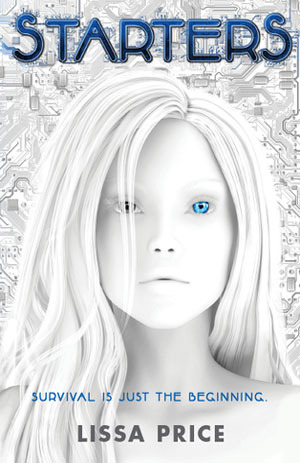 Image via Goodreads


Title: Starters (Starters #1)
Author: Lissa Price
Release Date: March 13th, 2012
Publisher: Delacorte Books for Young Readers
Source: Bought
Genre: YA, Dystopia
Blurb:
HER WORLD IS CHANGED FOREVER
Callie lost her parents when the Spore Wars wiped out everyone between the ages of twenty and sixty. She and her little brother, Tyler, go on the run, living as squatters with their friend Michael and fighting off renegades who would kill them for a cookie. Callie's only hope is Prime Destinations, a disturbing place in Beverly Hills run by a mysterious figure known as the Old Man.
He hires teens to rent their bodies to Enders—seniors who want to be young again. Callie, desperate for the money that will keep her, Tyler, and Michael alive, agrees to be a donor. But the neurochip they place in Callie's head malfunctions and she wakes up in the life of her renter, living in her mansion, driving her cars, and going out with a senator's grandson. It feels almost like a fairy tale, until Callie discovers that her renter intends to do more than party—and that Prime Destinations' plans are more evil than Callie could ever have imagined. . . .
My rating: 4 of 5 stars
After two disappointing reads by Alexandra Potter, I find
Starters
by Lissa Price a delightful surprise. Though the beginning of the story was slow, so to speak, I find myself engrossed in knowing what happened to Callie. The author refers those below the age of 20 as 'starters' and those above the age of 60 as 'enders'. Callie is a starter who had decided to rent her body out to an ender. In return, she would receive a large sum of money, just enough for her to rent a house so that Tyler (her little brother), Michael (a friend) and her would not live on the streets anymore.
She was asked to sign a contract, stating that her body was to be rent out thrice. During her final rent, something went wrong. The renter was supposed to be 'asleep' throughout the rental. However, Callie found herself regaining consciousness after awhile. Book 1 ended in such a way that I find myself yearning to know more about the story. In Book 1, Callie fell for a privileged kid-Blake, who isn't the boy Callie thought he is. An ender was actually renting Blake's body when Callie met him. I am intrigued if Callie would fall for the real Blake or choose Michael over him.
Starters is well-written and I would recommend it to anyone who loves sci-fi/ romance/ thriller.