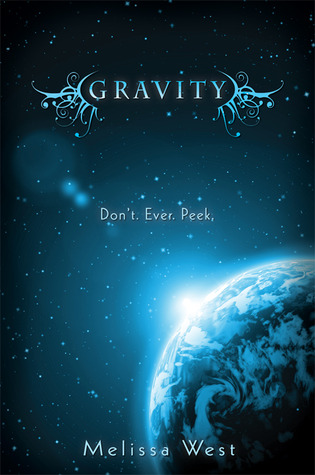 Image via Goodreads

Title: Gravity (The Taking #1)
Author: Melissa West
Release Date:

December 18th, 2012
Publisher:

Entangled Teen
Source: Bought
Genre: YA, Romance, Dystopia
Blurb:
In the future, only one rule will matter:
Don't. Ever. Peek.
Seventeen-year-old Ari Alexander just broke that rule and saw the last person she expected hovering above her bed — arrogant Jackson Locke, the most popular boy in her school. She expects instant execution or some kind of freak alien punishment, but instead, Jackson issues a challenge: help him, or everyone on Earth will die.
Ari knows she should report him, but everything about Jackson makes her question what she's been taught about his kind. And against her instincts, she's falling for him. But Ari isn't just any girl, and Jackson wants more than her attention. She's a military legacy who's been trained by her father and exposed to war strategies and societal information no one can know — especially an alien spy, like Jackson. Giving Jackson the information he needs will betray her father and her country, but keeping silent will start a war.
My rating: 5 of 5 stars
I bought this book few weeks ago at a Popular book sale. The storyline is just as cool as the front cover itself. It is a light and easy read. Definitely a page-turner for anyone who loves a story with some romance and adventure.
The story revolves around 17-year-old Ari Alexander, daughter of a commander. As the story progresses, she fell in love with the enemy- an Ancient ( the aliens in this story) Jackson who was appointed to her for The Taking. Ari was decisionally challenged whether to help the Ancients so that they could peacefully coexist with humans. However, that means that she would have to go against her own kind. In the end, she became part Ancient (after an incident) and was later taken by Jackson to the Ancients' world-Loge.
This is book 1 of The Taking. I can't wait for book 2-Hover to be released. I am officially a fan of Melissa West's books.